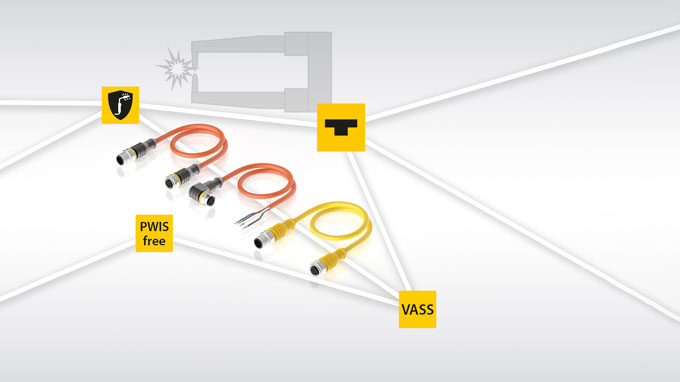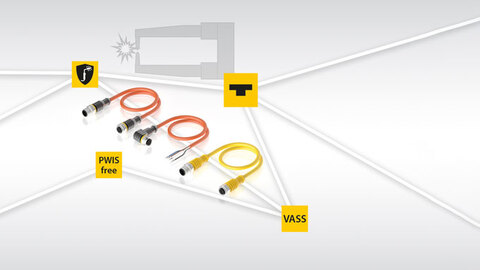 TXO and TXY cables: Flame-retardant, suitable for drag chain use and highly resistant to welding sparks
Welding Spark Resistant Connection Technology
The TXO3701 and TXY3713 series cables meet the most rigorous requirements of the automobile manufacturers for use in welding applications

Turck has increased the welding resistance of its TXO and TXY connector series. The cables thus also meet the latest requirements of the Volkswagen Group (VASS) for use in welding applications. The thickness of the cable jacket in particular was increased in order to achieve even greater resistance to welding sparks. The cables are also suitable for drag chain use and are highly flame resistant. They meet the requirements of both the North American UL FT2 standard as well as IEC 60332-1 and IEC 60332-2-2.
Your Benefits
High process safety for welding applications
Fast commissioning thanks to use of quick connectors
Suitable for international use due to the wide acceptance of the VASS standard
Angled or straight cables – with or without LED
Turck offers the PUR cables as 4 or 5-pin variants with straight or angled connectors, both with or without LEDs. The user can choose between standard cable lengths for connection or extension cables with M12 connectors. The cables are available in orange or yellow as standard. Special lengths, custom jacket colors or cables with M8 connectors can also be implemented on request.
---
INDUSTRIES
Automobile manufacturers
Tier1 and Tier2 suppliers
Machine building for welding applications
---
KEY FUNCTIONS
Meets the requirements of the Volkswagen Group – VASS
LED switching state indication (optional)
AIDA compliant
Flame-retardant
UL and UKCA approval as well as CE
---
RELATED CONTENT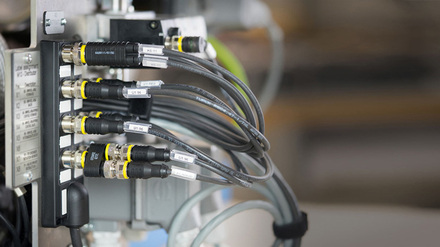 Learn more about our product range comprising a wealth of different connectors and cables, including over 115,000 connection technology solutions
---
PRODUCT DATA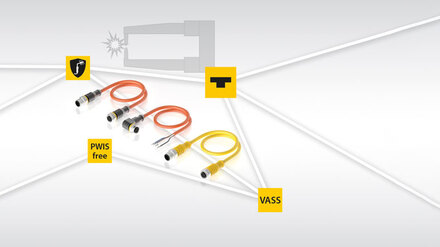 Approvals, data sheets, technical specifications, instructions, certificates, CAD data and more
---